Wheelchair Access Shower Doors,  Folding Barrier-free Shower (FBS)
Model Number
(* Single side opening)

Wall to Wall Opening Width Range
Min Max

Width of Collapsed Door and Frame

Number
Of Panels

Cost of Door With
Bright or Satin Frame

FBS 26*

23-5/8" 25-3/8"

6-3/4"
2
$313

FBS 28

25-3/4" 27-1/2"

9"
2
$350
FBS 33*
27-1/2" 32"

7-3/4"
3
$341
FBS 35*
32" 35"

7-3/4"

3
$351

FBS 36
32-7/8" 35-5/8"

10"
3
$384
FBS 37*
33-3/4" 36-1/2"

7-3/4"
3
$363
FBS 38

34-3/8" 37-1/8"

10"

3

$395

FBS 40
36-7/8" 38-5/8"

10"
3
$400
FBS 42*
37-7/8" 41-5/8"

8-3/4"
4
$385
FBS 44
40" 43-3/4"

11"
4
$429
FBS 48

43" 46-3/4"

11"
4
$439
FBS 50
46" 49-3/4"

11"
4
$450
FBS 54
48-5/8" 53-3/8"

12"
5

$468
FBS 56

50-1/8" 54-7/8"

12"
5

$473
FBS 58

51-5/8" 56-3/8"

12"

5

$478
FBS 60
53-1/8" 57-7/8"

12"
5
$483
FBS 61
54-5/8" 59-3/8"

12"
5
$491
FBS 62
56-1/8" 60-7/8"

12"
5
$496
FBS 65

57-1/4" 63"

13"
6
$515
FBS 67
61-1/4" 67"

13"
6
$526
FBS 70
63-1/4" 69"

13"
6
$536
FBS 73

66-1/4" 72

13"
6

$574

Screw Cover

Optional for all heights and sizes

-
-
$22.50/ea
Sizing Notes:
Door Heights are custom made to your height at every full inch from 66"-76"
"Walk Thru Opening Width" is equal to "Your Wall to Wall opening width" minus "Width of Collapsed Door and Frame"
6 Panel doors come without handle latch to hold door in collapsed position.
Features of Folding Barrier-free Shower Elite Shower Doors
Frame incorporates shower water dam with collapsible blade as bottom track for easy wheelchair or transfer chair access.

Can be stored in either the open or closed position
Allows full and complete access to the bathing area

Door panel made of rigid PVC plastic for a smooth, formal look

Panel has molded-in hinge for easier opening/closing

Panels are opaque white for complete privacy
Full-length magnetic latching system
Custom built to fit your barrier free shower
Frame heights up to 76"
Ventilated for quicker, worry-free drying
Safer than glass doors. Panels flex to help cushion a fall into the door, helping to prevent more serious injury
Aluminum frames available in Bright (recommended) or Satin finish. White Frames available for additional cost. Note that the bottom track (water dam) is only available in Bright finish.

Installation Instructions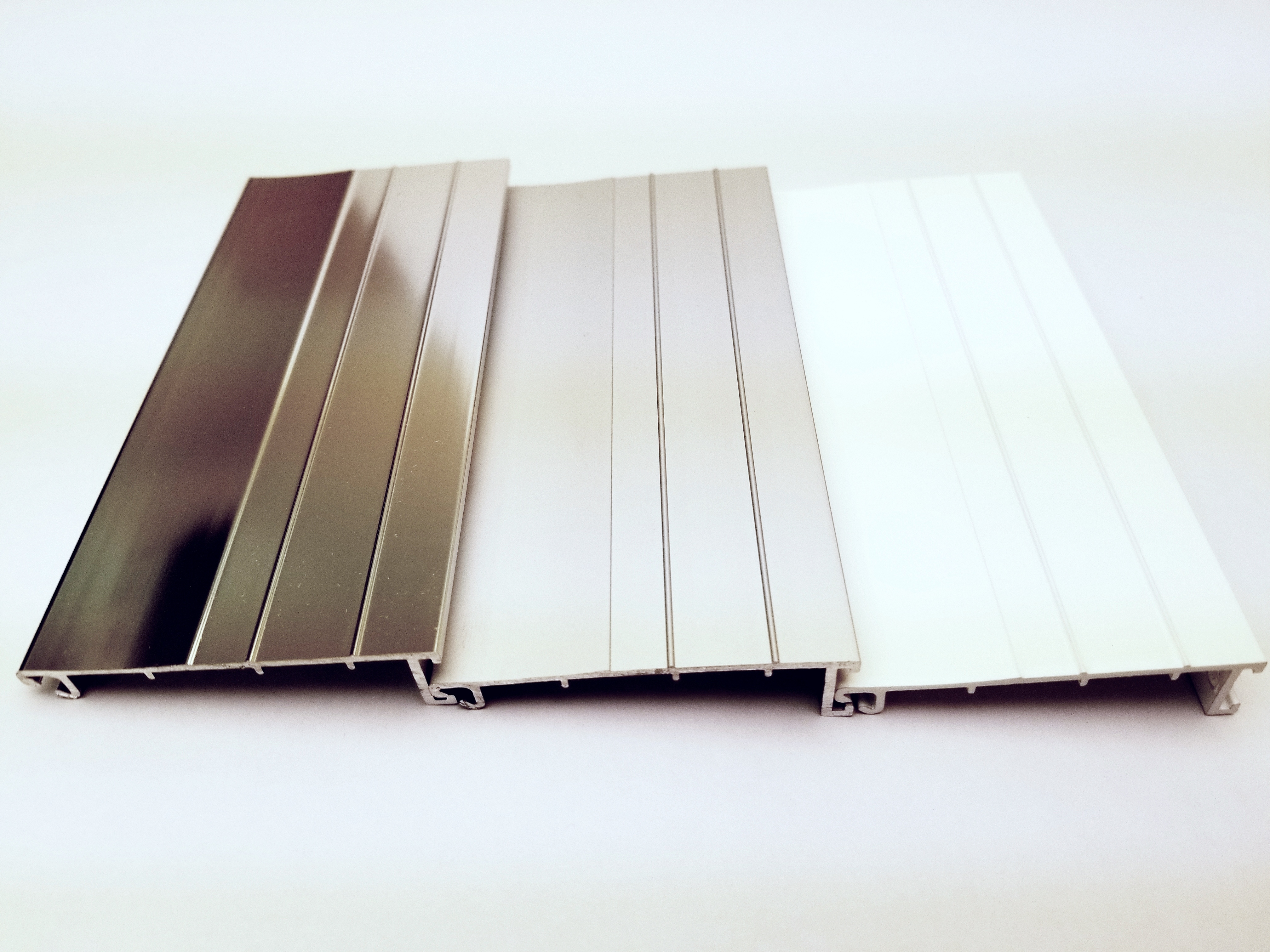 Aluminum Frames are available in 2 standard finishes, Bright (left) or Satin (center). White Powder Coated Frames (right) are available for an additional cost based on door size. Note that the bottom track (water dam) is only available in Bright finish. Custom color powder coated frames are available at a significant additional cost and longer lead times. Contact us for pricing info.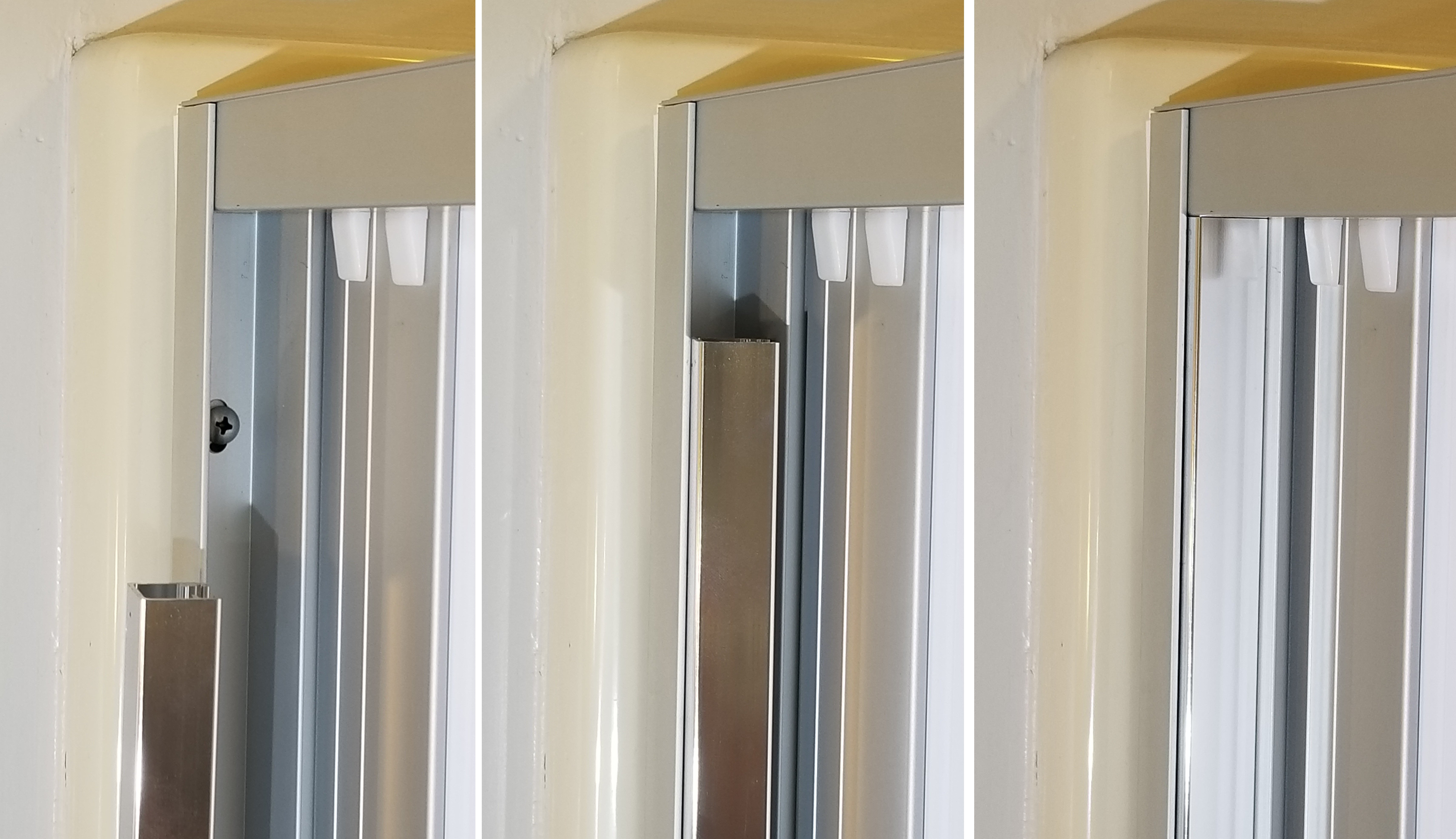 Screw Covers give a more finished look by hiding the mounting screws that attach the frame to the wall. Additional cost for for White Powder Coated Screw Covers.

These are not recommended for single side opening doors as the latch for holding the door in the collapsed position mounts in the space used by the screw covers.
Contact us by phone or email listed below. We will help you make a selection, answer questions and place your order. We can take your Credit Card payment information over the phone or we can send you an electronic invoice which you can pay online. We can normally have your custom door ready to ship in 1-5 business days. Shipping is done by UPS or USPS. Discounts available for large order quantities.
For your convenience, there is an order form directly below. Please fill out the form below and email to us. We will then send you a Sale Order for you to confirm and arrange payment.
We have added our doors to the Online Store, so you can order that way as well. Click Here "Online Shop"